Prairie Cicada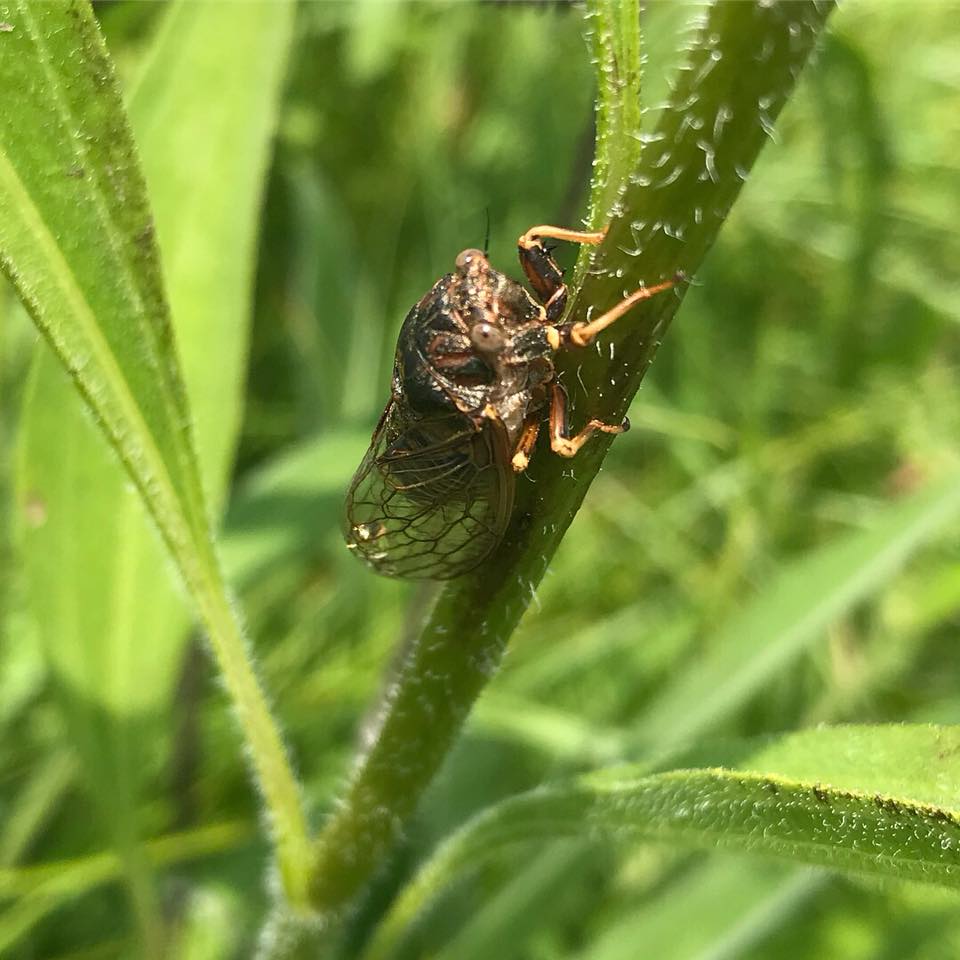 The prairie cicada, Okananga balli is a very habitat-specific cicada with a restricted distribution due to extensive habitat fragmentation and loss.  A study of this population by Sherry Sokalov and Dennis Nyberg in 2001-2002 estimated that there were approximately 400 (2001) to 800 (2002) individuals.  This species has been observed singing every year since then, and has continued in the years I have been director (since 2014).  It sings a little later since 2001-peak choruses have been in early-mid July, rather than late June as before, and singing males are heard well into late July, well past July 14, which was the latest-observed date in the 2001 survey.  Additionally, males now frequently sing in the wetland areas, and indeed seem to favor them-a departure from the observations in 2001.  We do not have a reliable population estimate for them, but the 2001 figure of 800 total, or somewhat lower, seems reasonable based on our observations.  Overall, this population persists intact and is small but appears to be stable.
Cicada detection
Singing males can be heard calling from about 20 m away.
While one may hear 2 at the same time, it is rare to hear more than 2 at the same time.
If they stop singing before one has location to <1 m2, normally they are not found.
When they fly they stay airborne for at least 10m and often fly out of visual contact.
Time of Year
The earliest the cicada has been heard at the Woodworth prairie is 13 June (2000-05).
The most reliable time of year is the last week of June.
Time of Day
High temperature increases the probability of hearing the cicada.
Sunny days increases the probability of hearing the cicada.
Midday (11:30 -2) is the best time of day.
Cicadas have been heard calling as early as 8:30 and as late as 16:00.
Are cicadas found in all parts of the Woodworth site?
The cicadas are usually not found singing within the wetlands.
Typically dry in late June.
The cicadas are uncommon in the partly degraded northwest corner for reasons unknown.
The larger dog day cicada (Tibicen) sings in August from the trees in backyards north of the prairie.
Cicada Life Cycle
Though they appear every year, based on literature, the cicada do not complete the egg to adult period in a single year.
The egg to adult period is probably 3 to 5 years based on the literature.
Ideas for ways to establish the length of the life cycle would be appreciated.
Mating
Female flies to singing male.
Mating begins within a couple minutes of her arrival.
Copulation lasts 10 minutes.
Shortly after mating females flies off.
Which Illinois prairie sites were assayed and cicadas NOT found?
Cary Jr High NP
GBNHS NP
EJ & E RR ROW
IC RR ROW S of Paxton
IL54 Roberts
Liberty Pr NP
Loda NP
Prospect Cem. NP
Shoe Factory Rd NP
Somme NP
Ted Stone FPDCC
US24 Iroquois Co
US24 Kentland IN
Conservation of prairie cicadas
A site RR ROW in Mt Prospect that Dr. Robert Hamilton told us had cicadas in 1970 no longer has them.
The historical IC RR ROW at Raccoon Grove still has cicadas.
Only Woodworth and Chicago Ridge had populations with more than a dozen seen.
Restoration of Okanagana balli
The biggest populations are not large, so the notion they survive by saturating predators should be rejected.
We know little about causes population increases or declines. At Woodworth populations fluctuate by less than order of magnitude from year to year.
Oviposition occurs soon after mating so transport of mated female seems problematical.
Acknowledgements
Many individuals helped in diverse ways.
Assistance from Max Palmer and Gus Nyberg should be singled out.
The research was financially supported by the Woodworth Prairie of the University of Illinois at Chicago.